Why This Is Our Year
Finally, OUR YEAR.
Our Year. If you have listened in to our very raw podcast show "the608 Show", you would know by now my predictions for the Badger's upcoming football season. I did the CFB Preview episode with all Badger fans, and they didn't even have hope in my prediction. For people who don't know me, I am an avid Badger fan who goes to every home game and has been to each B1G Championship the Badgers have participated in, which means I have been to Indy quite a lot since we have dominated the West. I have been through every heartbreak, every loss, every game ending in Buckeye fans treating us like scum at The Pub after the game. Not this time. Not this year. But hey, this blog platform gives me a way to not only speak about it through podcasting, but I can put it in writing as well. THE WISCONSIN BADGERS WILL MAKE THE CFB PLAYOFFS THIS YEAR. Now, I know I sound very confident in our undefeated season ending with a W over 'Bama, but I believe that this team is too damn talented to lose more than one game this year. Let me break it down..
1. We are LOADED on Offense.
Now, I know, we have had one of the best running games for basically my entire life on Earth. But for many years, being a one-dimensional team has held us back. Not this year. Not only do we bring back the best offensive line in the nation along with the most promising young back in heisman hopeful, Jonathan Taylor, we finally have a WR Corps that I trust. I dont remember the last time we had this many players that I trusted to move the chains. Perfect scenario was last year in our Bowl Game vs Miami. When we looked to be in trouble, our WR always found a way to move the chains with miraculous catches or great route running. Quintez Cephus. AJ Taylor. Danny Davis III. Kendric Pryor. Newcoming freshman Cade Green. Sprinkle in TE Zander Neuville and Luke Benzschawel. Man O Man. Thats dangerous. I haven't even brought up Bradrick Shaw and Taiwan Deal to help 23. Seriously, when was the last time we had THIS many weapons. This offense is set to tear up the schedule with dominating running game and a passing game people will have to respect.
2. Alex Hornibrook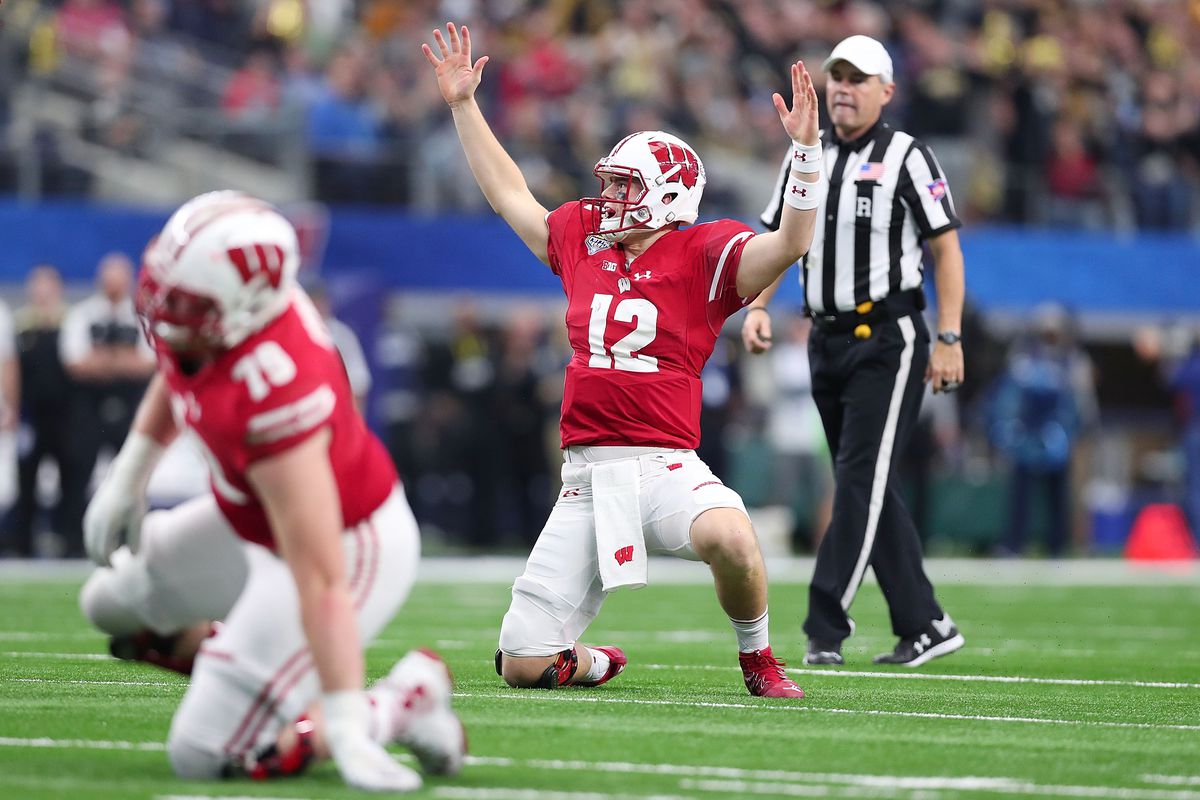 I left one player off the first point. Our difference maker. Alex Hornibrook. I'm sure there are many fanbases like ours, but the one player who gets scrutinized the most is the QB position. For years and years, our problem was our QB couldn't take us to the next level. We saw a glimpse of what it looks like with Russell Wilson. Now, I believe people have been hard on Alex, who has been thrown in the fire as a Freshman, and has legitimately gotten better each year. Reports have said he won MVP of Peyton Mannings camp this summer. Now, I am not sure how much that achievement holds, but to me, it means something. He's getting better. He has the intangibles with big bodied, lengthy lefty who had problems with velocity at the beginning of his career. But, over each year, he has improved and gained some zip to complete the out routes towards the long end of the field. He has started to make great decisions as a leader, and his WR Corps might be the best WI has ever had. We are going to put a lot of pressure on him, but he showed he has handled it well, and he has the pieces on this side of the ball to have a magical year.
3. Jim Leonhard & Our Defense
We have figured out over the past 5 years and that is our defense is here to stay. Year in and year out, we are sending more players to the league and having the ability to replace them and keep the mold of one of the stingiest D's in the nation. Along with that, we have a true winner, Jim Leonhard. He stepped in as a coach who hasn't had the most experience, but we knew what we had when we hired him. He has his players playing fast and with attitude. Now, we know we lost 7 players and also have huge injuries on our D-line. But, there is one thing we know, the Wisconsin Badger's Defense can plug in players and not skip a beat. We haven't had great luck with our LB position to begin the last couple seasons by losing a key starter. But, how have those years turned out? A player steps in and creates a name for himself. We have one of the best LB depth in the nation lead by star, TJ Edwards followed by Van Ginkel, Connelly, Orr, and Baun. Our secondary can be shaky with losing Nelson. But, we have players like Carriere-Williams, Pearson who can help star D'Cota Dixon fill the void. No matter what, we have proven in the past we have a knack for filling the spots of stars and playing at a high level.
4. Our Schedule
Now, many people will think of our schedule as a bad thing because we actually play tough teams this year that could beat us instead of last year's schedule. But, I think of it as a way for the team to prove everyone wrong. That the Badgers can play tough teams. That we belong with the top tier of powerhouses. Lets break it down.
vs Western Kentucky - This can be a decently tricky game. Western Kentucky plays with an Air Raid attack on offense, which can make our secondary vulnerable. Our secondary is fairly new, and we will figure out early what we got against a pass-first offense. Still, we are a much more talented team. Win.
vs New Mexico - This shouldn't be close. If this game was our West, it might be different as we have seen in the past that we sometimes struggle on the road early out West. Our running game should be able to control the T.O.P and keep our defense fresh throughout this game. Win.
vs BYU - Now, I believe this game will be closer in terms of play this year, as last year we went out there and whooped them. But, I believe the score doesn't resemble the play as we beat up on their defense and get some turnovers from their offense just like last year. Win.
@ Iowa - Let the tougher games begin. Our first test. Iowa at Kinnick Stadium is always tough, especially with their tough Defense. I believe this is a very close game as their QB Stanley will have a decent game. But, at the end of the day, our talent becomes too much for a team that lost a lot of pieces on Defense.
vs Nebraska - Nebraska finally got their coach in Frost and will become a contender in the West once again. Even with the talented coach, I am not sure this team is ready to compete in his first year of implementing his style. Especially, at the Camp, I think this game isn't that close.
@ Michigan - Huge game. Last time we went out to Ann Arbor, they beat us in a defensive battle. But, Harbaugh has a lot riding on this game and I fully expect him to have his team ready for this battle. One thing I know though, is defense always travels well compared to offense, especially in a big venue. Shea Patterson has been deemed as the savior for their QB woes. I still believe we are the better team, and that this game will come down to Rafael and his boot.
vs Illinois - Sorry Lovie, you guys are awful. Not much to say here especially with this game at home. This a very much needed game to get us ready down the stretch.
@ Northwestern - OK. OK. OK. This game actually scares me more than MICH for a couple reasons. They will be pounding the rock all game long and there is one thing we know: We always start sluggish when we play there. I dont know why, but it seams we struggle at Northwestern everytime. So, this game scares me, but still....Talent over struggle.
vs Rutgers - Again, a nice game to play after a burner at Northwestern. Having these games at the later part of our schedule helps, especially with some tough games to end our schedule. At home, we beat up on Rutgers.
@ Penn St - By now, Penn St will have figured out who fills the void with Saquon. But, are the Nittany Lions prepared to lean on McSorley? This game will come down to the wire. Franklin is trying to prove he is one of the nation's best recruiters and can reload each year and be a contender. But, they will be coming off a 5-game stretch where they play OSU, MSU, IOWA, & MICH. I believe that stretch takes a toll on the team and we prevail.
@ Purdue - Purdue has been known to take down top notch teams off a miraculous game at their place. So, we cannot come into this game easily. Purdue isn't close to our talent and I believe it shows in the 2nd half. I think 23 has a career high game.
vs Minnesota - Minnesota hasnt seen the axe other than when we are running around the field celebrating us keeping it for the millionth year in a row. Especially with us at home. Ballgame.
B1G Championship - Let's be real. This will most likely be OSU, but teams like MSU, Michigan, or the Nittany Lions can suprise teams. Still, OSU is loaded again with Bosa on defense & Dobbins and Haskins on offense. The only thing that can become a distraction is Urban Meyer, which become a huge factor. I still believe that if we get to this point with 1 loss or undefeated, that we change the mold. We finally come out of this victorious and make the playoff.
All in all, Ive shown you why I believe the Badgers will finally make the playoff and show everyone we are a top tier program. Enough is enough. We have the talent and coaching, now let's pull it together. Comment below what you believe the Badgers will finish and can we all agree on one thing: COLLEGE FOOTBALL NEEDS TO HURRY UP!!!!